A few months ago I bought this 15-pack of plastic food containers from Amazon with the goal of preparing my meals for the week so I have no excuse but to be healthy. Flash to two months or so later and I had only used them one time and got rid of most of my food I cooked in that week because it grossed me out. I had to figure this out.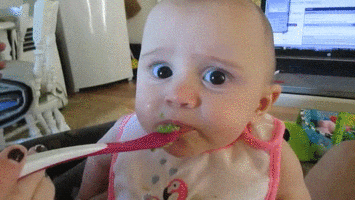 Now, let me say this loud and clear: MEAL PREPPING HAS CHANGED THE GAME FOR ME.
Like, why haven't I always done this? I lost four pounds in a week and I can owe a lot of that to the major food changes I made. I'm already seeing the physical changes.
It's more than just laying out a shit ton of plastic containers and filling it up with food. But it's easy. After I posted an Instagram recently of my beautiful prep, I've gotten a ton of questions about what I've been doing the past few weeks so I'm going to break it down for you, if this is something you think you might be interested in. I'll give you my shopping list, the pros and cons, some disclaimers, and my weekly meals—plus some other ideas. I'm not an expert by ANY means, but why not share what seems easy enough for me. 
Enjoy!
—-
First, a backstory.
So I used to make fun of my friend for meal prepping and eating like the most boring person on Earth. The idea that somebody would put forth so much effort, spending so much time on their precious Sunday preparing for the week to then just eat chicken, broccoli and brown rice for every meal sounded like the purest form of torture to me.
Clearly I was wrong about the whole thing because here I am, eating my words and my properly prepped meals. AND I found a way to do it that works for me (because I can't eat the same thing over and over again or I'll go nuts).
Fresh off my birthday, I was ready to make a change. Many changes, but changes in my lifestyle in particular. I'm a fairly small girl, hence the fact that I feel like most of the time I can eat whatever I want and still look cute in my skinny jeans. Obviously I'm very, very wrong about that. My weekly lunchtime binge on grilled cheese & french fries and my recent addiction to mayonnaise and sushi caught up with me just enough for me to notice. It's time to tone it up once & for all.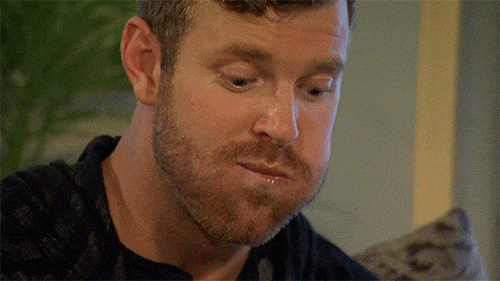 Before I get into it, here are some disclaimers:
Like I said, I'm not an expert and I just started doing this. I'll just say it again for good measure.

I don't really track my calorie intake. I don't use MyFitnessPal or anything like that. I'm a little too type A for it and I've done it in the past. To me I felt a little obsessive about it, so I try not to be that strict. I definitely make sure that I'm eating enough food, though. So this is what works for me. Be sure to adjust to what works for you. I know those apps are wonderful and work for a lot of my friends who swear by them!

I don't follow IIFYM or flexible dieting and I don't weigh my food, etc. I know a lot of people are pretty diligent about this when it comes to meal prepping. That's a kind of dedication I aspire to have, but just don't at the moment. Like I said though, I'll make sure everything is portioned out by what works for me. I'll usually just eyeball it, though.

Don't expect to lose any weight simply by changing your diet. Get in the gym and put in the hard work. It ain't easy.

It's all about balance. I never deprive myself. Ever.
Now, I'll start with the cons first.
Time commitment.

It takes a long time to meal prep. But I try my best to make it fun. Usually just by blasting music while I do it. I knew I would be home at my parents' house on Sunday for Father's Day (my usual meal prep day) so I spent a few hours on Saturday in the kitchen getting my stuff together. And I'm so glad I did.

Leftovers can be gross.

I'm the kind of person that will try pretty much any food you put in front of me, yet leftovers skeeve me out. It's a personal problem, but I know I'm not alone in this. It's just something I had to get over, considering I'm lucky I have a fridge full of food in the first place.

You're gonna need a lot of storage space.

I'm lucky that my roommates and I have a second fridge otherwise this would be a major challenge. I pretty much have taken over the fridge in our basement with my half a dozen or more meal prep containers. And two boxes of wine. Sorry, roomies.

It can be annoying to transport to/from work or school.

I know people who have invested in those super cool (slightly nerdy, no offense) lunch bags. I literally tote my food (just breakfast, lunch and snacks) in to work with a Wine & Spirits bag and store it in the mini fridge in my office. Figure out what works for you and your schedule, though!
And then the pros.
Everything you're going to eat is right there and ready for you.

All you have to do is either 1) throw it in the microwave or 2) eat it. It honestly can't get much easier than that.

You can get by without using too many ingredients.

My shopping list is fairly small. I can get by without spending more than $40 a week at the grocery store, which is a fact I'm proud of. It gives me more money to spend on the weekends when I want to cheat and spend money on food like pizza or more importantly, lots of wine.

It's easy to stay with it.

You can't really make many excuses because it would just take more effort to eat stuff that isn't already right in front of you. Just eat it. Fight the craving you have to call up and order sushi every night. (This might just be my personal problem, idk.)
Here's a typical shopping list for my meal prep. These are just the essentials (not a lot of my snacks or "treats") and honestly a lot of this I don't have to buy weekly because I'll get in bulk. It's pretty much just the produce and yogurts I'll need to stock up on week to week.
Boneless, skinless chicken breasts (I'll usually stock up and get like four pounds) I'll stick however much I need for the week in the crockpot and shred it all up for my chicken salad and whatever else!

Frozen broccoli and other veggies

Greek yogurt (either one large container of Vanilla or four to five individual Triple Zero yogurts)

Eggs

Spinach

Strawberries

Blueberries

Grapes

Natural rolled oats

Celery

Bell peppers

Hummus

Cheese sticks

Brown rice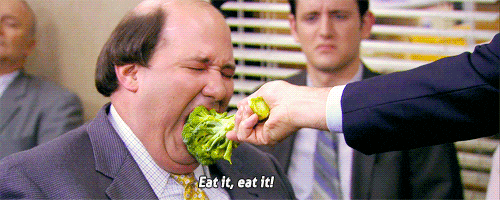 Here are a few ideas for what you can have for each meal, just based on what I tried so far.
Breakfast ideas:
Egg scramble — can add veggies or light cheese

Fruit

Protein shake

Cereal w/ almond milk
Lunch ideas:
Skinny chicken salad lettuce wraps, veggies + hummus and strawberries

Kale salad and poppy seed dressing with some shredded chicken, veggies + hummus and a low-fat cheese stick
Dinner ideas:
Whole wheat pasta, pork sausage (or ground turkey) with spinach and red sauce

Chicken stir fry with brown rice and broccoli and low sodium soy sauce (this is pretty much just your "basic meal prep" meal cooked up together in a pan so it's a little less boring)
*PRO TIP*
One of the most major tips I can give you when it comes to meal prep is DON'T make too much. You might end up wasting and if you're cooking for one person like me (and one person who really doesn't eat THAT much food) it's easy to do.
One reason this happens to me is when life gets in the way and you don't eat the meal you prepped. For example, last Wednesday I ended up going out to happy hour and having a light dinner out instead of the meal I made for myself. By the end of the week, I skipped my dinners twice and skipped my lunch once for a work lunch.
So, I decided that instead of packing up individual dinners, since that's the meal I'd skip most often, I would create one big Tupperware container of dinner food that I can grab throughout the week and weekend. That way there's less of a chance of missing an individual meal, and I have enough to get me through. Then, I'll only prepare four lunch meals. This is because I'm only at work until noon on Fridays through the summer, so I'll usually just eat a snack after breakfast, head to the gym, and make a fresh lunch at home or go out with friends. Everyday during the work week I'll make sure I have a healthy breakfast prepared and ready to grab and go.
The prep process itself.
It can seem daunting to be surrounded by a shit ton of chicken and vegetables and not know where to start. I just go in order of meals. Here's a step by step process of what I do.
Get the chicken started – whether you're baking it, grilling it, or putting it in the crockpot (which I do because I'm lazy)

Chop up all the veggies and fruit you need

Start with breakfast.

For me, breakfast takes a bit because I'll sometimes do an oatmeal bake which I need to throw in the oven.

Then I'll scramble up some eggs. Check. One meal down.

Then I'll get the rice cooking and broccoli/veggies boiling.

Once the chicken is done and shredded, it's literally a matter of throwing the chicken salad together and usually making some kind of stir fry mixture with the chicken.

Celebrate how awesome you are by probably snap chatting your masterpiece.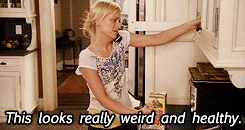 So with ALL that being said.
Here's what a typical day with my meal prep looks like for me:
Breakfast (in a 3 section container):
Oatmeal with berries 

Scrambled egg

Fruit (usually blueberries and strawberries or kiwis)
Morning snack:
Greek yogurt (Triple Zero is my favorite because it tastes the best and has a good amount of protein) I'll usually have this with fruit or will sometimes even mix in a little protein powder.
Lunch (in 3 section container):
Skinny chicken salad lettuce wraps (made with greek yogurt, celery, shredded chicken and grapes)

Peppers and/or celery with one serving of hummus

Cheese stick or piece of fruit
Afternoon snack:
I'll try to power through, but sometimes I'll need a little pick me up. Whole wheat peanut butter crackers seem to fill me up pretty well, or I'll eat a peach or some nuts.
Dinner (and typically post-workout):
Stir Fry – serving size of brown rice, shredded chicken and a ton of broccoli all mixed up with some low sodium soy sauce. I'll toss it on the pan again so it tastes a little fresher. I'm picky with left overs.
Treats:
If I'm looking for a treat later at night, I limit myself to only have a few things. Here are the options I give myself.
One serving of Trader Joes corn puffs (like Pirates Booty but better. Be careful because you can easily overeat this if you're like me)

½ cup of skinny funfetti dip and fruit (it's made with lite cool whip, greek yogurt and cake mix so a little high in sugar but not the worst thing for you!) it's my favorite treat. It's 105 calories for 1/4 cup. 
A skinny popsicle – my favorite are these coconut ones.

Frozen grapes.

A glass of wine. Duh. Rosé is my everything. 
I will say that yes, I can definitely limit the amount of sugar I'm taking in per day. This meal plan is NOT perfect by any means. (F-Perfection, lolz). But like I said, this is what's working for me.
Some days I'm even less on the ball with my eating and I'll hit the Starbucks drive-thru on my way to work. Other days I'll say fuck it completely and eat the damn grilled cheese. Nights when I'm at the bars with my friends the chances of me getting a slice of pizza at the end of the night are still super high. But this is an easy way to limit the excuses you can make for yourself and stay relatively in control a lot of the time. It's all about balance!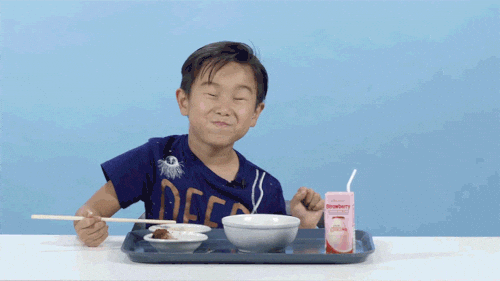 I'm going to continue to do this through the summer and I'll update as I start to try new recipes! I'm on week two of chicken salad for lunch and I'm already superrrr bored, so I'd love to hear any recommendations you have!