Hi everybody!
I'm coming at you fresh off of a weekend down the Jersey Shore and I'm completely inspired by these summer cocktail concoctions. I wanted to share my top favorites right now & my must try list with you all.
My typical drinks of choice over the summer include Rosé, white wine or spiked seltzer. I'll never pass up a vodka soda or a Corona Light with lime, though. These cocktails, though, are super easy too!  You'll be dying to bring these recipes to your next get together with friends. I know I  will.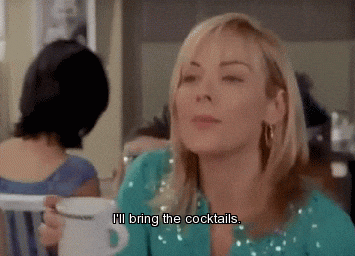 Champagne Margaritas
Champagne and margaritas?! I know, it sounds like a death wish. But don't worry. These are perfect for your next celebratory summer fiesta.
(Recipe via Delish.com)
INGREDIENTS
1/2 c. fresh lime juice
1 c. silver tequila
1/2 c. orange liquer
1 bottle champagne (about 3 cups)
lime wedges, for rim
salt, for rim
DIRECTIONS
Combine all ingredients in a large pitcher and stir well.
Run lime wedges around the rim of each champagne flute and dip the rims in coarse salt.
Divide margaritas between flutes and garnish with lime wedges.
Vodka Mint Lemonade
Can you honestly go wrong with mint in a cocktail? This is the most refreshing.
(Recipe via Honeyandlime.co)
INGREDIENTS
2 cups Vodka (Tito's always)
4 cups lemonade
fresh mint
1/2 cup sliced strawberries
lime
ice
DIRECTIONS
Combine the vodka, lemonade, half of the strawberries, and half of the mint leaves in a mixing bowl.
Muddle until the fruit is slightly mashed.
Fill a mason jar or high ball glass with ice.
Add the rest of the mint and berries to the glass, then pour in the vodka lemonade mixture over the ice.
Garnish with a slice of lime.
Melon White Wine Spritzer
Super excited to give melon cubes (literally just frozen melon) a try. Anything with Sauvignon blanc I will give a try, too.
(Recipe via ABeautifulMess.com)
INGREDIENTS
4-5 oz. chilled Sauvignon Blanc
2-3 oz. chilled club soda (or tonic if you want a little more sweetness)
3-4 frozen melon cubes
1 big sprig of fresh basil
DIRECTIONS
Pour wine over frozen melon cubes
Add splash of chilled club soda
Add a sprig of basil to garnish
Mixed Berry Wine Spritzer
This recipe uses one of the best La Croix flavors. Basic & delicious.
(Recipe via Self.com)
INGREDIENTS
1 part red wine (I wouldn't use your best red wine for a drink like this)
3 parts La Croix Mixed Berry Sparkling Water
Ice
Frozen Blueberries or Raspberries
DIRECTIONS
Pour ice in glass.
Add frozen berries.
Pour wine, then sparkling water
Almost too easy! Cheers & happy summer!