Hi everybody! We've got another amazing guest post. This one comes from Heidi Lynn Scheuermann. She's getting real about what being single means to her, and (spoiler alert) she's an absolute bad ass with a beautiful perspective on life and love. I think we could all learn something from Heidi. Thanks for sharing, girl!
If you're interested in sharing your story about love, life or whatever else, hit me up at fperfectionblog@gmail.com.
---
So… I'm single.  And when I say, "I'm single," I mean I'm reaaaaally single.  How single is reaaaaally single?  Well… I'm 29 years old and I've been single for 29 years.  That's pretty damned single.  And, y'all, when I say I've been single for 29 years, I don't just mean that I've never been in a serious relationship.  I mean I've never been on a date in my entire life.  MY.  ENTIRE.  LIFE.  Not one date.  Nada.  Zip.  Exactly zero dudes have ever asked me out on so much as a 30 minute coffee date.  Not once.  Not one single time.  Hell… I never even got asked to a dance in high school.  THAT'S how single I am.
You may be thinking to yourself, "Geez.  What level of loser do you have to be to have literally gone 100% of your life without ever having been asked on a single date?  Is there something wrong with her?  There has to be something wrong with her."  But, you see, there's actually nothing wrong with me.  And, it took me a really long time to realize that for myself.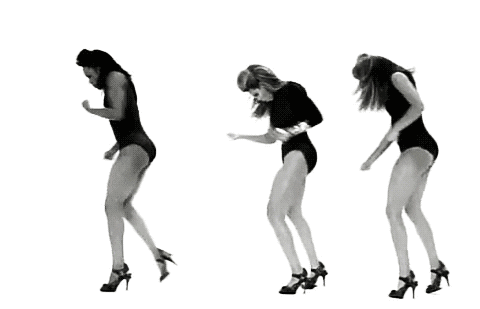 I'm smart.  We're talking high school honors, undergrad magna cum laude, 4.0 grad school GPA smart.  I have a great job, and I am an avid reader.  Learning is my favorite!
I'm creative.  I have my own blog, I craft, I sing and dance, I can decorate the heck out of a dozen cupcakes, and coloring books are my favorite.
I'm funny.  Sarcasm is my native language so bring on the banter, I love a good pun or dad joke, and I can "that's what she said" the heck out of almost anything.
I'm adventurous.  Travel is my best friend.  I want to go to all the places and I want you to come with me!  New York is my favorite place every, but I recently learned that I LOVE to hike in the mountains.  Europe is next on my bucket list.
I'm nice.  Seriously.  This may seem so lame, but in middle school we had to do these affirmations for everyone in our class and someone wrote on my sheet that I'm "nice to mean people."  What a compliment!
I'm hard working.  My current job requires that I put in WAY more hours of work that what I'm getting paid for, but you know what?  I'm 100% ok with that because hard work builds character, and it's getting me closer to my long-term goals.  I don't believe I am owed anything.  I work for everything I have.
I could go on and on.  Don't get me wrong… I'm not trying to brag.  I'm trying to make a point here that THERE IS NOTHING WRONG WITH ME.  And, if you are someone who is also in a perpetual state of singlehood, there is nothing wrong with you, either.  It's just the hand we have been dealt at this moment in time.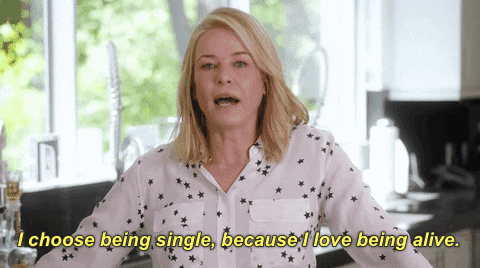 Look, I realize being the "single friend" is no picnic.  I get it.  I literally went to an engagement party for a friend recently where I was the ONLY single person there… unless you count the two children under 12 years old who were also in attendance.  It's not easy.  You're happy for your friends.  But, it's really hard watching them, one by one, go on all the dates and then find and marry the love of their life, while you're still standing there hoping someone will realize that you exist.
Here's the thing though… being married is no picnic either.  So I say, instead of moping around and feeling sorry for our single ass selves, let's live the heck out of life because we have freedoms that our coupled friends will never know again.  Need some examples?
I can travel to anywhere I want, whenever I want, with whomever I want.  I can decide to have cereal for dinner and steak for breakfast if I want to because I only have to feed myself.  There's no such thing as your half the bed and my half the bed… the whole darned bed is mine, all mine!  Also the remote is mine, all mine!  Also the thermostat is mine, all mine!  I have the time to work on bettering myself in solitude, and to work towards my goals without any interruptions.  I have so much time for social activity that I know my coupled friends only wish they still had.  Maybe TMI, but if I want to go 3 weeks without shaving… I can… because no one is looking.  I can focus on my health wholeheartedly.  All of those new hobbies I've been wanting to take up… I can!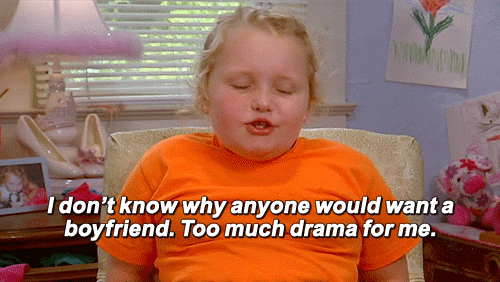 And, look, I'm not trying to knock being in a relationship or even marriage.  Because I 100% am not.  Heck, I hope that one day soon I can break this 29 years of singularity streak.
What I am saying is that instead of wasting my singlehood feeling sorry for myself, I'm choosing to make the most of it and to take advantage of the time that I have for myself because one day when I'm not single anymore I will be giving up a lot of the things I'm able to do and focus on right now.
On days when you're struggling (because those definitely happen), try this… when you wake up in the morning, take a power pose in front of your mirror (think Peter Pan… legs shoulder width apart with your hands on your hips) and tell yourself 5 reasons why you are freaking awesome and why you are going to slay the hell out of this day.  It will change your attitude, and it will change your life!
Cheers, my friends, to all of you who have found your happy ever after!  But this one right here's for all my friends out there who are living their single ever after.  You are a ROCKSTAR.  You are not "behind" in life because you are single.  You are not weird because you are single.  You are not unworthy because you are single.  You are not missing out on anything because you are single.  You, like me, are in the prime of your life.  So put your blinders on, ignore all that negative bull, and go catch your dream!
x Heidi