Dana Gibbs (thewhisperbox.com)
Crappy days are quite common for a lot of people, especially us working class folk. Heck, I know I've had my fair share of them as a millennial woman living in New York City.
Unfortunately, it's not easy to keep your emotions under control when you're having a bad day. Some mornings you just want to stay in bed, or if the day turns sour midway through your routine, you end up wishing it would just be over already.
Over time, I've come up with a few strategies for bouncing back from a bad day. Here are six things you can try to help you out of that crappy mood:
1)  Get dolled up
Even if you've got nowhere special to go, try getting dressed up to lift your spirits. Put on your favorite dress, sweater, or whatever clothing items you feel your best in. When you make an effort to look great on the outside, chances are you'll feel pretty good about yourself throughout a not so awesome day.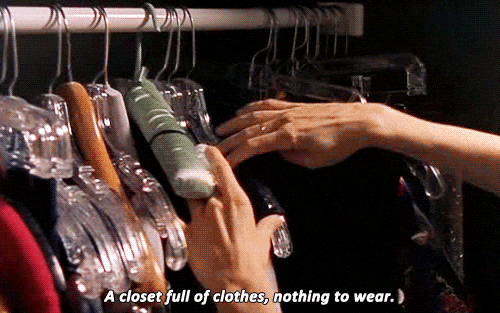 Source: Giphy
2) Wear your favorite makeup look
On days when I feel especially crappy, I tend to have puffy eyes. Luckily, there's nothing a bit of foundation can't fix! Play up your makeup (provided you have time in the morning) on days when you're feeling low, and make a habit of looking at yourself in the mirror before heading out the door to tell yourself you look GOOD.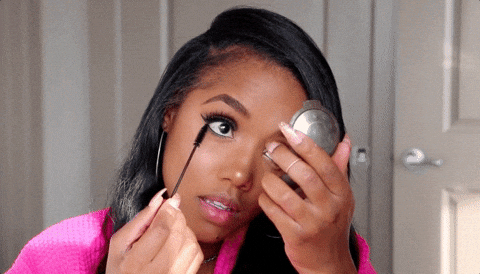 Source: Giphy
3) Give your locks a little bit of TLC.
I find that when I spend some time on my hair on mornings, I forget about the fact that I didn't want to get out of bed to go to work. Be it a twisted updo or a curly masterpiece, a fun, sophisticated hairdo could be just what you need to get you out of a funk.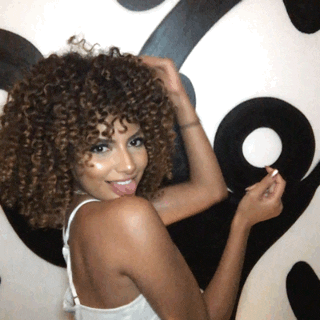 Source: Giphy
4) Eat your favorite comfort food.
Dark chocolate is scientifically proven to boost your mood, so crappy days are the perfect excuse to snack on cocoa that's 85% or higher. You can also treat yourself to comfort foods such as mac and cheese, chicken pot pie, or oven roasted potatoes when you're having a bad day. Make your stomach happy and hope the rest of your body and mind will follow suit.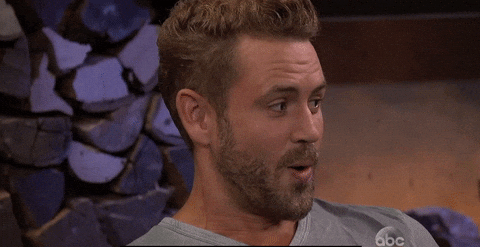 Source: Giphy
5) Listen to uplifting and/or upbeat music.
As a music junkie, I love listening to uplifting and upbeat tunes to boost my mood. Don't you dare try to resist letting your foot tap away to the beat with these two Spotify playlists below! Go ahead, play that air guitar and dance around your room like no one is watching—you'll forget why you were having a bad day in no time.
Listen to my favorite uplifting playlist here.
Listen to my favorite upbeat playlist here.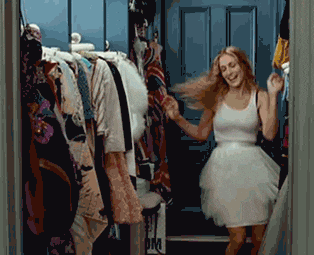 Source: Giphy
6) Don't fight it.
There are times when you just have to let yourself feel an emotion in order to move passed it. In an article from self.com by Carolyn L. Todd, Massachusetts psychologist Nanci Prada says that if you accept your feelings, "you can put them aside and not pay so much attention to [them]. But if you fight it, it gets worse." Some emotions demand to be felt—even bad ones—so don't try to fight them. As actress Tracee Ellis Ross says in the same article, "[on bad days,] I acknowledge I am feeling f-cking crappy, and I'm not at my best, and I still want to or need to keep walking forward." Take time to process your emotions and figure out what's bringing you down, then take steps toward getting back to your normal self.
It's easy to let crappy days take over, making you feel terrible for weeks, months, or even longer. Just remember that you are in control. Hopefully these tips will help you look bad days in the face and say "bring it."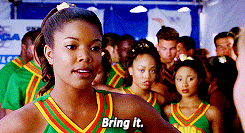 Source: Giphy